ESCAPADES > Davao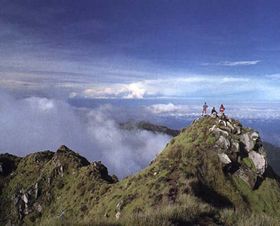 Davao City offers you a blend of modern developments and old ethnic traditions. Take home memorable souvenir photographs as you watch the Apoduwaling festival where different tribal groups dance to the beat of ethnic instruments. Within the dense forests of Mt. Apo, the Philippines highest peak, lives the rare Philippine eagle. But you don't have to go that far. Just visit Davao's Eagle Conservation Center, home of Pagasa, the world's first artificially inseminated eagle.
Enjoy the stretch of white sand beaches and resorts all year round. And for more adventure, scale the heights of Mt. Apo on a four-day trek. If these are not enough, visit Pearl farm - a premier resort complete with aqua sports facilities. Stilt-type cottages distinguish this resort from all the others. Dive off this isle and you might discover giant Taclobo clams and sunken Japanese wrecks. Underwater, the seascapes are simply spectacular. Getting there: Manila-based flights take 1 hour and 40 minutes while Cebu based flights take 55 minutes.
Sightseeing: Eagle Conservation Center, Mt. Apo National Park, Puentespina Orchid Garden, Banana Plantation Tour, Samal Island, Talikud Island and Coral Islands.
Recreation: Apo Golf and Country Club and Lanang Golf & Country Club. Mountain climbing. Mountain bike trails. Horseback riding. Diving and water sports at the resorts. Gaming at Casino Filipino.
A surrogate keeper at the Philippine Eagle Research and Nature Center in Calinan, Davao
City does his share in the propagation of the endangered Philippine eagle.